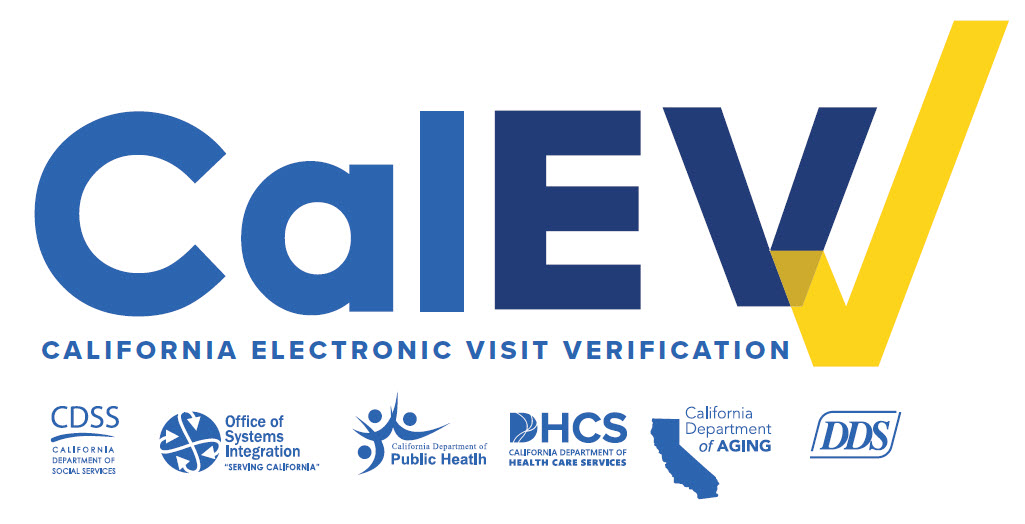 Overview
The EVV Phase II Project sponsors are Department of Health Care Services (DHCS), the Department of Developmental Services (DDS), the California Department of Public Health (CDPH), the California Department of Aging (CDA), and the California Department of Social Services (CDSS). OSI serves as the project administrator and manager.

The Electronic Visit Verification (EVV) Phase II Project is a multi-departmental effort to implement electronic visit verifications for all Medicaid personal care services (PCS) and home health care services (HHCS) that require an in-home visit by a provider. EVV is a telephone and computer-based solution that electronically verifies when in-home service visits occur. EVV is a telephone and computer-based solution that electronically verifies in-home service visits occur.

EVV solutions must verify: Type of service performed; Individual receiving the service; Date of the service; Location of service delivery; Individual providing the services; and Time the service begins and ends.

Pursuant to Subsection (l) of Section 1903 of the Social Security Act (SSA) (42 U.S.C. 1396b), all states must implement EVV for Medicaid-funded personal care services (PCS) by January 2020 and home health care services (HHCS) by January 2023. On October 22, 2019, CMS approved the State's Good Faith Effort (GFE) request for PCS, which waived Federal Medical Assistance Percentage (FMAP) reductions in calendar year 2020. California's GFE approval letter from CMS is available on the EVV CMS GFE Webpage.

The implementation of EVV for PCS is anticipated by January 1, 2022 and for HHCS by January 1, 2023. The DHCS EVV Phase II webpage and DDS EVV Phase II webpage provide information on stakeholder meetings, project updates and the system implementation. The EVV Phase II Project has been branded CalEVV, with the state-supplied solution referred to as CalEVV and the open vendor model for alternative EVV systems interfacing data referred to as the CalEVV Aggregator.

EVV Implementation
EVV will impact all PCS and HHCS provided under the Medi-Cal State Plan and various Medicaid Home and Community-Based Service waiver programs. These services are provided in California through programs managed by the DHCS, DDS, CDPH, CDA and CDSS.

California is implementing EVV in two phases:

Phase I: This Phase is for the In-Home Supportive Services (IHSS) program and Waiver Personal Care Services program, focused on EVV implementation for programs that currently use the Case Management Payrolling & Information Systems (CMIPS II) and Electronic Time Sheet System (ETS). Further information about Phase I is available on the CDSS EVV website.

Phase II: This Phase is focused on identifying a solution to implement EVV for non-CMIPS and agency PCS, and self-directed and agency HHCS. This includes programs at DHCS, DDS, CDPH, CDSS, and CDA as listed below:
DDS 1915(c) Home and Community-Based Waivers, including the Self-Determination Program
DDS 1915(i) State Plan Home and Community-Based Services
DHCS 1915(c) Home and Community-Based Alternative Waiver
DHCS Home Health Care Services
CDA/DHCS Multipurpose Senior Services Program (MSSP) 1915(c) and 1115 Waiver
CDPH/DHCS 1915(c) AIDS Medi-Cal Waiver
CDSS In-Home Supportive Services Agency Model (Self-Directed in Phase I)
Phase II implementation of EVV requires the State to deploy an EVV solution for PCS and HHCS providers not included in Phase I. This includes PCS through provider agencies, individual providers, and some providers of self-directed services, and all HHCS. EVV Phase II will follow the "Open Vendor" EVV approach that will allow providers to choose between the State's EVV solution or an alternate EVV solution that meets state and federal EVV requirements.
Note: There are two models for the provision of PCS and HHCS, the Self Directed/Individual Provider Model and the Agency Provider Model.
The Self-Directed Model, also known as the Individual Provider Model, supports the provision of PCS by an individual provider. This model gives the recipient, or their authorized representative, the autonomy to hire or fire a provider of their choosing as well as to instruct them on how to facilitate their PCS needs.
The Agency Provider Model supports the facilitation of PCS and/or HHCS by an authorized agency who is responsible for hiring, firing, and training personnel to facilitate services on behalf of an eligible Medi-Cal beneficiary. Agency Providers are employed by commercial agencies who manage their work, process payroll, and issue their paychecks. These agencies can either have contracts with counties or enroll through DHCS as a Medi-Cal provider.
EVV Contract
The OSI EVV project management team procures and manages the EVV Phase II vendor contracts. As of August 23, 2021, Sandata Technologies, LLC, is the primary EVV vendor. The contract is a five-year contract (8/23/21-8/22/26) with options to extend an additional four years (8/22/30). Sandata, in partnership with OSI, DHCS, DDS, CDPH, CDA, and CDSS will work with program stakeholders to launch the CalEVV Program.
For more information, visit the Sandata Website.
Stakeholder Engagement
The State sponsoring departments (i.e., DHCS, DDS, CDPH, CDA, and CDSS) are responsible for stakeholder engagement and management. All EVV outreach and training materials, policy updates, technical requirements, and key project updates will be posted to their website. For EVV Phase II information, please visit the DHCS EVV Phase II webpage and DDS EVV Phase II Stakeholder Meetings webpage.
If you would like to be added to the EVV stakeholder distribution lists for DHCS and/or DDS, or your have EVV related questions, please send an email to EVV@dhcs.ca.gov and EVV@dds.ca.gov.
Questions or Comments
If you have any questions or comments, please email EVVP2Project@osi.ca.gov